News from Williams Family Law
Contents
September 2013

Firm Announcements

Did You Know?

Featured Practice Area

From The Blog

Happenings and Headlines

Around Town

From The Blog


Please visit our blog where we share legal insights, thoughts on legal news and much more. Below are some of our most recent posts.


ACT 147: A Minor's Right to Mental Health Treatment

How do the United States Supreme Court decisions on DOMA and Proposition 8 Impact Pennsylvania Same-Sex Relationships?

What about my stuff?

Pennsylvania Eliminates Parenting Coordination

To subscribe to our blog or receive posts by email, see the top left side of our blog page.
Happenings & Headlines

Williams Family Law Attorneys Selected by U.S. News & World Report as 2014 Best Lawyers in America
Read more at Best Lawyers.

Three Firm Attorneys Recognized as 2013 Pennsylvania Super Lawyers and Rising Stars
Read more at Super Lawyers.

Jeffrey M. Williams Speaks in Las Vegas on Valuing Marital Assets in Divorce
Read more at Litigation Symposium.



Firm Announcements

Our Name Has Changed

We have changed our name to Williams Family Law, P.C. Jeffrey M. Williams remains managing partner of the law firm. The website address (www.bucksfamilylawyers.com) and firm email addresses have not changed.
"With business growth, comes opportunity for change," said Williams. "We have renamed the firm in order to focus on family law services and our continued commitment to representing our clients' best interests while restructuring the firm's ownership. As managing partner, it is my responsibility to ensure that our family law attorneys continue to provide clients with the best counsel possible."


Read more about the name change: Williams Family Law.


Jeffrey M. Williams Named Secretary of the Pennsylvania Chapter of the American Academy of Matrimonial Lawyers


Founder and Managing Partner, Jeffrey M. Williams, has been nominated to be Secretary of the Pennsylvania Chapter of the American Academy of Matrimonial Lawyers (AAML-PA). He is the only AAML Fellow with a primary office in Bucks County.


AAML-PA collaborates with lawyers, legislators, judges, agencies and professionals to improve the standards and processes of resolving conflicts involving child support, divorce, custody and juvenile matters. Fellows of the AAML Pennsylvania Chapter are skilled negotiators and litigators who represent individuals in all facets of family law. Fellows deal with the most complex aspects of matrimonial law, such as valuation, professional practices, tax consequences, alternative families, and interstate and international cases.


Read more about this nomination: American Academy of Matrimonial Lawyers.
Did You Know?

Frequently Asked Questions
at Williams Family Law


Q: My father passed away five years ago and I received a large inheritance. Is my spouse entitled to any of this inheritance as part of a divorce action?

A: It depends. Pursuant to the Pennsylvania Divorce Code, marital property does not include property acquired by inheritance. However, the increase in value of an inheritance will be considered part of the marital estate, subject to division between the parties. To ensure that the inheritance remains identified as a non-marital asset, it should be maintained separately from assets owned jointly by the parties. Read more here: Is my spouse entitled to large inheritance?


Q: My spouse moved out of the house when he filed for divorce. Can I change the locks and alarm code so he can't get in?

Assuming the residence where you and your spouse resided is jointly titled, it would generally be a poor idea to change the locks and the alarm code. Simply by moving out, your spouse has not waived the right to the property. Read more here: Can I change the locks and alarm code?

Featured Practice Area

Marital Settlement Agreements


When possible, it is often recommended for spouses in a Pennsylvania divorce proceeding to discuss an amicable resolution and settlement of all claims. A marital settlement agreement (also known as a "property settlement agreement") is a written agreement that provides the parties with an efficient means to resolving the issues of a divorce proceeding, such as the division of marital assets and liabilities, alimony, APL/support payments, child support, legal fees and other rights. Similar to prenuptial and postnuptial agreements, marital settlement agreements are considered to be final and binding upon the spouses and should be thoroughly discussed, negotiated and reviewed. Marital settlement agreements can also save the parties a significant amount of time and money since court proceedings are removed from the process.


If you have questions, consulting with a skilled family lawyer is critical and our family law attorneys are available to help. Find out more about marital settlement agreements.

Around Town

The Mercer Museum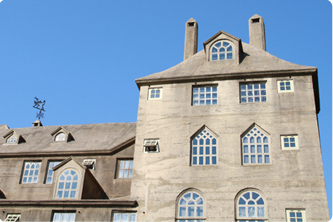 As part of a Bucks County law firm, we live and work in a beautiful area in the Greater Philadelphia region. Constructed by historian and archaeologist Henry Mercer, the Mercer Museum contains a collection of 40,000 objects that document everyday life in 18th and 19th century America. The museum is a unique 6-story concrete castle that has been recognized as a National Historic Landmark. Recently, an expanded state-of-the-art exhibit gallery and program space was opened.
|
|
|
|
|
|
|
P: 215.340.2207 |
Copyright 2013 Williams Family Law, P.C.


Williams Family Law, P.C. is a premier family law firm based in Bucks County, Pa. The firm provides individuals with matrimonial and family law legal counsel and representation in alimony, child support, child custody, divorce, domestic partnership and cohabitation, grandparents' custody rights, equitable distribution, marital settlement agreements, prenuptial and postnuptial agreements, separation agreements, spousal support, matrimonial taxation and related matters. The family law attorneys also provide guidance and representation in alternative dispute resolution forums, handling mediation, arbitration and custody dispute resolution. The practice at Williams Family Law centers on four core principles: experienced guidance, compassionate advice, powerful advocacy and knowledge of the local courts and counsel. The firm prides itself on leadership within the profession and a strong record of success.


In some states, this correspondence may be considered attorney advertising. Transmission of this document is not intended to create, and receipt does not establish, an attorney client relationship. This newsletter is intended for informational purposes only and should not be construed as legal advice on any subject matter. The contents of the email do not necessarily represent the opinions of Williams Family Law, P.C. or its clients. If you require legal advice, you should retain competent legal counsel to advise you. If you would like to retain Williams Family Law, P.C., please contact one of our lawyers, who will be pleased to discuss how our firm can assist you. An attorney-client relationship will arise between you and our firm only if we specifically agree to act for you. Unless and until we specifically agree to act for you on a matter, you should not provide us with any confidential information or material.