News from Williams Family Law
Contents
May 2013
Firm Announcements
Did You Know?
Featured Practice Area
From The Blog
Around Town
From The Blog
Please visit our
blog
where we share legal insights, thoughts on legal news and much more. Below are some of our most recent posts.
• Divorce Decision: Should I Stay or Should I Go
• Mental Health Records and the Best Interests of the Child
• Divorce Attorneys Working "For the Public Good"
• Child Support: Pay Up or Don't Procreate
• But It's Not Tax Season – Should We File Jointly When Getting Divorced?
To subscribe to our blog or receive posts by email, see the top left side of our
blog
page.
Firm Announcements
Jeffrey Williams has been Named 2013 Top Rated Lawyer in Family Law by Martindale-Hubbell®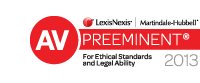 Bucks County attorney,
Jeffrey M. Williams
, managing partner of the Bucks County family law firm Williams Family Law, P.C., has been named 2013 Top Rated Lawyer in Family Law by Martindale-Hubbell®, a peer review ratings company driven by the confidential opinions of attorneys and members of the judiciary surveyed by LexisNexis®. Read the full article at:
Martindale-Hubbell®
.
Did You Know?
Frequently Asked Questions
at Williams Family Law
Q: My children want to live with me and not my spouse. Are they allowed to make that decision?
A: The short answer is "no." How much weight the court ultimately puts on a child's preference depends on a number of circumstances such as the age and maturity of the child, and the specifics of why the child wants to be with one parent over the other. The court is obligated to always do what is in the best interest of the child and, absent an abusive or dangerous situation the court is inclined to find that the best interest of the child is served by maintaining a relationship, and thereby custodial time, with each parent. Read more here:
My children want to live with me
.
Q: Can I force my spouse to leave our house now that divorce papers have been filed?
No. The act of filing does not automatically give the filing party more rights than the responding party as it relates to marital property. If one party has been physically abusive towards the other or has placed the other in fear of immediate serious bodily injury, the abused party may file a request with the court for a Protection from Abuse Order that may exclude the abuser from the marital home for up to three years. Another method by which one party may be excluded from the marital home is through the filing of a Petition for Exclusive Possession. The Pennsylvania Divorce Code allows the court to award one or both of the parties the right to reside in the marital residence. This is a harsh remedy, however, and not one the court grants easily. The court will need to be convinced that there is an abusive or dangerous situation that exists if both parties remain in the marital home before excluding one of the parties. It should be noted that even if the request is granted, the removal of one party from the home will in no way affect that party's rights as it relates to the home's value when assets are distributed. Read more here:
Can I force my spouse to leave?
Featured Practice Area
Equitable Distribution
Aside from child custody and support issues,
the distribution of marital property
— which includes both marital assets and marital debts — can be one of the most controversial issues in a divorce matter. In Pennsylvania, the process of distributing assets and debts in divorce cases is defined as "equitable distribution." Contrary to what its name implies, equitable distribution does not consist of an equal division of assets and debts. Equitable distribution is based, instead, on what the court believes is a fair distribution of property.
At Williams Family Law, we are dedicated to supporting our clients during the divorce process so they can begin rebuilding their lives and their families. Our family law attorneys have strong working relationships with experts throughout Bucks County including psychiatrists, psychologists, financial planners and forensic accountants. We have also received specialized training in areas such as arbitration, collaborative law, parent coordination and mediation – and we work with each of our clients to determine the most efficient and effective divorce method for them.
If you have questions about the divorce process, consulting with a skilled family lawyer is critical and our family law attorneys are available to help. Find out more about
divorce matters
.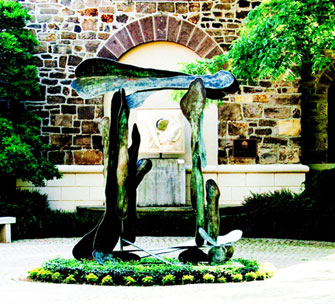 Around Town
James A. Michener Art Museum
As part of a Bucks County law firm, we live and work in a beautiful area in the Greater Philadelphia region. The James A. Michener Art Museum opened as an independent, non-profit art museum in 1988 exhibiting the art and cultural heritage of Bucks County. Named after Bucks County native and Pulitzer Prize winning author, James A. Michener, the museum, located in Doylestown, houses art created by both regional and international artists ranging from sculptures and furniture to iconic landscape paintings inspired by Bucks County.
Home
|
About Us
|
Practice Areas
|
Attorneys
|
Media Center
|
Resources
|
Blog
|
Contact
P: 215.340.2207 |
www.BucksFamilyLawyers.com
Copyright © 2013 Williams Family Law, P.C.
Williams Family Law, P.C. is a premier family law firm based in Bucks County, Pa. The firm provides individuals with matrimonial and family law legal counsel and representation in alimony, child support, child custody, divorce, domestic partnership and cohabitation, grandparents' custody rights, equitable distribution, marital settlement agreements, prenuptial and postnuptial agreements, separation agreements, spousal support, matrimonial taxation and related matters. Williams Family Law's family law attorneys also provide guidance and representation in alternative dispute resolution forums, handling mediation, arbitration and custody dispute resolution. The practice of family law at Williams Family Law centers on four core principles: experienced guidance, compassionate advice, powerful advocacy and knowledge of the local courts and counsel. The firm prides itself on leadership within the profession and a strong record of success.
In some states, this correspondence may be considered attorney advertising. Transmission of this document is not intended to create, and receipt does not establish, an attorney client relationship. This newsletter is intended for informational purposes only and should not be construed as legal advice on any subject matter. The contents of the email do not necessarily represent the opinions of Williams Family Law, P.C. or its clients. If you require legal advice, you should retain competent legal counsel to advise you. If you would like to retain Williams Family Law, P.C., please contact one of our lawyers, who will be pleased to discuss how our firm can assist you. An attorney-client relationship will arise between you and our firm only if we specifically agree to act for you. Unless and until we specifically agree to act for you on a matter, you should not provide us with any confidential information or material.