News from Williams Family Law
Contents
March 2014


Did You Know?

Featured Practice Area

From The Blog

Happenings and Headlines

Around Town

From The Blog


Please visit our blog where we share legal insights, thoughts on legal news and much more. Below are some of our most recent posts.
Date of Separation and Divorce – What Does it Mean?

•
Why Your Custody Stipulation Doesn't Apply to the Dog

To subscribe to our blog or receive posts by email, submit your email address on the blog page where it says "Subscribe" in the left column.
Happenings & Headlines


Jeffrey M. Williams Presents 'Identifying and Valuing Unique Marital Assets in Divorce Litigation'
Read more at Matrimonial Litigation Symposium.


Did You Know?

Frequently Asked Questions
at Williams Family Law


Q: I moved out of our marital residence and pay a lot of money to my spouse each month for child support and spousal support. Now my spouse is telling me that I have to pay for the mortgage and real estate taxes for the marital residence too. Is that true?

A: It depends. Support guidelines do provide for a mortgage contribution in specific circumstances. The mortgage contribution addresses the primary mortgage, any secondary mortgages, real estate taxes and homeowners insurance. Generally, a mortgage contribution is requested by the spouse who remains in the marital residence when the mortgages, real estate taxes and homeowners insurance exceed a certain percentage of their income, as defined in the support code. Read more here: Who pays for the mortgage and real estate taxes?

Q: I am worried about how we are going to afford college expenses for our children now that my spouse and I are getting divorced. Who will have to pay for this?

A: In Pennsylvania, neither party will be required to pay for college expenses or any other post-majority support for a child. However, if you and your spouse desire to pay for your child's college education, you will need to address this in a private agreement. Read more here: Who will have to pay for college?
Featured Practice Area

Child Support


Among the challenges that arise from divorce and child custody proceedings is the ability for parents to provide adequate support for their children. It is extremely important to remember that it is a child's right to receive appropriate child support. In most divorce or separation cases, it is necessary for the parent who does not live with the child more than half of the overnights in a year (non-custodial parent) to provide financial support to the parent who lives primarily with the child (custodial parent).
The court considers the following elements, among others, when establishing a child support arrangement:

Number of minor children
Incomes or earning capacities of both parents
Medical needs of the child/children including medical insurance coverage
Educational needs of the child such as private school expenses
Child care costs.
If you have questions, consulting with a skilled family lawyer is critical and our family law attorneys are available to help. Find out more about child support.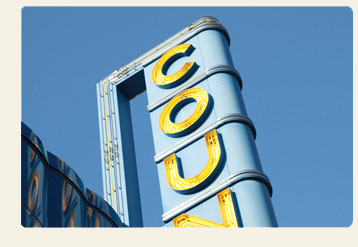 Around Town

County Theater

As part of a Bucks County law firm, we live and work in a beautiful area in the Greater Philadelphia region. One of the jewels of Doylestown, where our office is located, is the County Theater. Located on State Street in the heart of the borough's business and shopping district, the theater first opened in 1938 and is a nonprofit, community-based movie house that specializes in independent, art, and foreign films.
|
|
|
|
|
|
|
P: 215.340.2207 |
Copyright © 2014 Williams Family Law, P.C.


Williams Family Law, P.C. is a premier family law firm based in Bucks County, Pa. The firm provides individuals with matrimonial and family law legal counsel and representation in alimony, child support, child custody, divorce, domestic partnership and cohabitation, grandparents' custody rights, equitable distribution, marital settlement agreements, prenuptial and postnuptial agreements, separation agreements, spousal support, matrimonial taxation and related matters. The family law attorneys also provide guidance and representation in alternative dispute resolution forums, handling mediation, arbitration and custody dispute resolution. The practice at Williams Family Law centers on four core principles: experienced guidance, compassionate advice, powerful advocacy and knowledge of the local courts and counsel. The firm prides itself on leadership within the profession and a strong record of success.


In some states, this correspondence may be considered attorney advertising. Transmission of this document is not intended to create, and receipt does not establish, an attorney client relationship. This newsletter is intended for informational purposes only and should not be construed as legal advice on any subject matter. The contents of the email do not necessarily represent the opinions of Williams Family Law, P.C. or its clients. If you require legal advice, you should retain competent legal counsel to advise you. If you would like to retain Williams Family Law, P.C., please contact one of our lawyers, who will be pleased to discuss how our firm can assist you. An attorney-client relationship will arise between you and our firm only if we specifically agree to act for you. Unless and until we specifically agree to act for you on a matter, you should not provide us with any confidential information or material.