News from Williams Family Law
Contents
February 2013
Firm Announcements
Did You Know?
Featured Practice Area
From The Blog
Happenings and Headlines
Around Town
From The Blog
Please visit our
blog
where we share legal insights, thoughts on legal news and much more. Below are some of our most recent posts.
• The Court Goes Too Far: A Parent's Right to Due Process
• 50 Ways to Say Goodbye When Getting Divorced
• Children, Holidays and Divorce
• Prenuptial Agreements and Death of a Spouse
• The Social Media Warning
• Does a School Have a Duty to Bus Children From Separate Homes?
• The Squirrel and the Divorce Lawyer
To subscribe to our blog or receive posts by email, see the top left side of our
blog
page.
Happenings & Headlines
Firm Announcements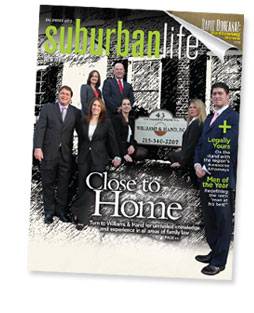 Williams Family Law Featured in Suburban Life Magazine
Williams Family Law was featured on the cover of
Suburban Life
magazine's December 2012 issue. The magazine also highlighted our firm, interviewed key partners and provided an overview of our Bucks County family law services in an article titled, "Close to Home." Read the full article at
Suburban Life
.
Did You Know?
Frequently Asked Questions
at Williams Family Law
Q: What is the difference between legal custody and physical custody?
Legal custody is defined in Pennsylvania as "the right to make major decisions on behalf of the child, including, but not limited to, medical, religious and educational decisions." Physical custody is defined as "the actual physical control of the child." Read more about the
difference between legal and physical custody
.
Q: Can I move to another state with my children?
Relocation is possible, but absent consent of the other parent (or guardian) relocation requires permission by the court. The law requires the court to consider 10 factors when determining whether to grant a relocation request. Read about the
10 factors
.
Featured Practice Area
Divorce
Divorce is one of the most difficult experiences in a person's life. Although no one enters a marriage anticipating it will end in divorce, situations can change and couples may grow apart. Divorce, or even separation, can be an overwhelming process and becomes even more complex when children are involved or when the marriage involves high income or valuable assets. In a divorce proceeding, spouses tend to have different ideas regarding alimony, spousal and child support, child custody, how to fairly allocate their assets and liabilities and the distribution of marital property. It is essential to obtain competent and experienced legal representation when filing for a divorce.
At Williams Family Law, we are dedicated to supporting our clients during the divorce process so they can begin rebuilding their lives and their families. Our family law attorneys have strong working relationships with experts throughout Bucks County including psychiatrists, psychologists, financial planners and forensic accountants. We have also received specialized training in areas such as arbitration, collaborative law, parent coordination and mediation – and we work with each of our clients to determine the most efficient and effective divorce method for them.
If you have questions about the divorce process, consulting with a skilled family lawyer is critical and our family law attorneys are available to help. Find out more about
divorce matters
.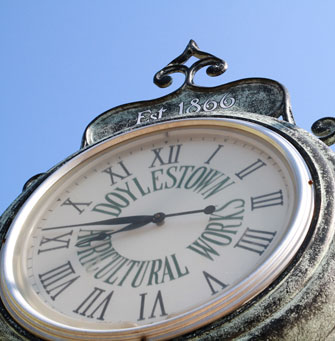 Around Town
Doylestown Agricultural Works Clock
As part of a Bucks County law firm, we live and work in a beautiful area in the Greater Philadelphia region. This photograph depicts the clock outside of the historic Doylestown Agricultural Works building. Constructed in 1867, the building served as a factory producing farm machinery and ironwork and was the area's largest employer.
Home
|
About Us
|
Practice Areas
|
Attorneys
|
Media Center
|
Resources
|
Blog
|
Contact
P: 215.340.2207 |
www.BucksFamilyLawyers.com
Copyright © 2013 Williams Family Law, P.C.
Williams Family Law, P.C. is a premier family law firm based in Bucks County, Pa. The firm provides individuals with matrimonial and family law legal counsel and representation in alimony, child support, child custody, divorce, domestic partnership and cohabitation, grandparents' custody rights, equitable distribution, marital settlement agreements, prenuptial and postnuptial agreements, separation agreements, spousal support, matrimonial taxation and related matters. Williams Family Law's family law attorneys also provide guidance and representation in alternative dispute resolution forums, handling mediation, arbitration and custody dispute resolution. The practice of family law at Williams Family Law centers on four core principles: experienced guidance, compassionate advice, powerful advocacy and knowledge of the local courts and counsel. The firm prides itself on leadership within the profession and a strong record of success.
In some states, this correspondence may be considered attorney advertising. Transmission of this document is not intended to create, and receipt does not establish, an attorney client relationship. This newsletter is intended for informational purposes only and should not be construed as legal advice on any subject matter. The contents of the email do not necessarily represent the opinions of Williams Family Law, P.C. or its clients. If you require legal advice, you should retain competent legal counsel to advise you. If you would like to retain Williams Family Law, P.C., please contact one of our lawyers, who will be pleased to discuss how our firm can assist you. An attorney-client relationship will arise between you and our firm only if we specifically agree to act for you. Unless and until we specifically agree to act for you on a matter, you should not provide us with any confidential information or material.