News from Williams Family Law
Contents
December 2013

Firm Announcements

Did You Know?

Featured Practice Area

From The Blog

Happenings and Headlines

Around Town

From The Blog


Please visit our blog where we share legal insights, thoughts on legal news and much more. Below are some of our most recent posts.
But When My Cousin Got Divorced…

•
A Wise Man Once Said…

To subscribe to our blog or receive posts by email, see the top left side of our blog page.
Happenings & Headlines


Bucks County Family Law Firm Has Changed its Name to Williams Family Law, P.C.
Read more at Williams Family Law.

Divorce Attorney Jeffrey M. Williams Named Secretary American Academy of Matrimonial Lawyers
Read more at Williams Named Secretary.



Firm Announcements


Williams Family Law Named 2014 'Best Law Firm'



We are pleased to announce that Williams Family Law has been named a U.S. News – Best Lawyers® "Best Law Firm" for 2014 – one of only 11 family law firms in the Greater Philadelphia area to qualify for the top tier.


The Best Lawyers in America has become universally regarded as the definitive guide to legal excellence since its inception in 1983. The 2014 edition was based on more than 4.9 million detailed evaluations of lawyers by other lawyers. Attorneys are neither required nor allowed to pay a fee to be listed.


Because of the breadth, depth and neutrality of the evaluation, inclusion in Best Lawyers is considered a singular honor.


Read more about this designation: Best Law Firm.
Did You Know?

Frequently Asked Questions
at Williams Family Law


Q: One of my friends just told me that her divorce took several years to finalize. Is this how long it usually takes?

A: The Pennsylvania Divorce Code establishes certain time frames to finalize a divorce. That time frame starts with a mandatory 90-day waiting period. After that, if both parties agree, a divorce may proceed in a timely manner. However, if either party does not consent to a divorce, the filing party must wait two years before proceeding. Read more here: Is that how long it takes?

Q: My spouse was concerned I was having an affair and accessed my password-protected email. Is he allowed to do this?

A: A spouse may access the "family computer" and most of its contents. However, in the case of a file that is password-protected, the user established an expectation of privacy by use of the password. Therefore, the answer is no. Read more here: Is he allowed to do this?
Featured Practice Area

Alimony


After a divorce, the involved parties often encounter significant financial pressures. Many times, one spouse will need to provide monthly economic support for the other spouse in the form of an alimony payment. This may be by agreement or ordered by the court.


When constructing an alimony order, the court will examine a variety of factors, including the income or earning capacity of both spouses, the relative needs of the parties and the assets awarded to both spouses in equitable distribution. Alimony issues become decidedly more complex when dealing with high-asset divorces. Income from securities, investments, pensions, business holdings and other sources must be taken into account to determine a fair amount of alimony.


If you have questions, consulting with a skilled family lawyer is critical and our family law attorneys are available to help. Find out more about alimony.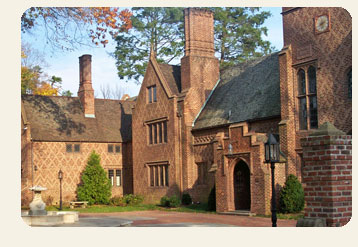 Around Town

Aldie Mansion

As part of a Bucks County law firm, we live and work in a beautiful area in the Greater Philadelphia region. One of the jewels of Doylestown, where our office is located, is Aldie Mansion. Built in 1927 as the home of notable residents William and Martha Mercer, the English Tudor style mansion fell into disrepair after Martha died in 1960. The nonprofit land and historical preservation organization, Heritage Conservancy, bought it for $1 and spent three years restoring it to glory. It reopened in 1991. The fees from renting the property for weddings, conferences and more support the Conservancy's mission of preserving land and historic buildings in Bucks County and beyond.
|
|
|
|
|
|
|
P: 215.340.2207 |
Copyright © 2013 Williams Family Law, P.C.


Williams Family Law, P.C. is a premier family law firm based in Bucks County, Pa. The firm provides individuals with matrimonial and family law legal counsel and representation in alimony, child support, child custody, divorce, domestic partnership and cohabitation, grandparents' custody rights, equitable distribution, marital settlement agreements, prenuptial and postnuptial agreements, separation agreements, spousal support, matrimonial taxation and related matters. The family law attorneys also provide guidance and representation in alternative dispute resolution forums, handling mediation, arbitration and custody dispute resolution. The practice at Williams Family Law centers on four core principles: experienced guidance, compassionate advice, powerful advocacy and knowledge of the local courts and counsel. The firm prides itself on leadership within the profession and a strong record of success.


In some states, this correspondence may be considered attorney advertising. Transmission of this document is not intended to create, and receipt does not establish, an attorney client relationship. This newsletter is intended for informational purposes only and should not be construed as legal advice on any subject matter. The contents of the email do not necessarily represent the opinions of Williams Family Law, P.C. or its clients. If you require legal advice, you should retain competent legal counsel to advise you. If you would like to retain Williams Family Law, P.C., please contact one of our lawyers, who will be pleased to discuss how our firm can assist you. An attorney-client relationship will arise between you and our firm only if we specifically agree to act for you. Unless and until we specifically agree to act for you on a matter, you should not provide us with any confidential information or material.