Williams Family Law Newsletter
News from Williams Family Law
Contents
August 2017

Firm Announcements

Did You Know?

Featured Practice Area

From The Blog

Around Town

Happenings & Headlines

From Our Family Law Blog

Please visit our blog where we share legal insights, thoughts on legal news and much more. Below are some of our most recent posts.

• Understanding Uniform Laws and Their Impact on Family Law

• Is My New Spouse Required to Contribute to My Child's Costly College Expenses?

To subscribe to our family law blog or receive posts by email, submit your email address on the blog page where it says "Subscribe" in the left column.
Happenings & Headlines

Bucks County Divorce Attorney Discusses Family Law on Impact Makers Radio
Williams Family Law partner Robert J. Salzer recently shared insight into the financial ramifications of divorce on a segment for Impact Makers Radio with Stewart A. Alexander. Salzer discussed common divorce misconceptions, the best way to communicate with clients, and some of his most rewarding moments on the job. Read More...




Firm Announcements

Jeffrey M. Williams Named President of AAML Pennsylvania Chapter

We are proud to announce that Williams Family Law founder and managing partner Jeffrey M. Williams has been elected president of the Pennsylvania chapter of the American Academy of Matrimonial Lawyers. Williams is the only Fellow of the AAML with a primary office in Bucks County.

Read more about this announcement: Williams Named President of AAML Pennsylvania Chapter.


Susan J. Smith Recognized Among Ten Leaders in Divorce Law

Partner Susan J. Smith has been recognized by the Ten Leaders Cooperative as one of Ten Leaders in Divorce Law in the Greater Philadelphia area. An experienced divorce attorney in Bucks County, Smith focuses her practice exclusively on family law.

Read more about this announcement: Susan J. Smith Recognized Among Ten Leaders in Divorce Law.


Thomson Reuters Names Jeffrey Williams a PA Super Lawyer for 13th Consecutive Year

Congratulations once again to Jeffrey M. Williams, who has been recognized as a Pennsylvania Super Lawyer for 2017. No more than 5 percent of Pennsylvania's attorneys may be named Super Lawyers each year, an honor which Williams has received each year since 2005.

Read more about this announcement: Jeffrey M. Williams Named PA Super Lawyer for 13th Consecutive Year.

Did You Know?

Frequently Asked Questions
at Williams Family Law

Q: I just filed for divorce. Can I move out with my kids immediately?

A: Unless your children are at risk of physical abuse by staying in the home, it is best not to move them until a custody arrangement – even a temporary one – has been arrived at. While it is always the hope of any judge that parents will cooperate and mutually agree upon a custody arrangement, he or she will readily decide for you. Read more here...

Q: My ex-spouse and I share custody of my children. Can we both claim them as dependents on our income tax returns?

A: No. A "qualifying child" can be claimed only in one household each year. The IRS allows you to designate who will be able to claim the child as a dependent for tax purposes in your child custody agreement. Read more here...


Featured Practice Area

Child Custody

Resolving issues related to child custody and visitation is often the most disputed issue in divorce proceedings. When a child is involved, the custodial situation can vary greatly depending on the relationship between the parents. At times, one spouse may try to request unreasonable custody arrangements. The family law attorneys at Williams Family Law, P.C., provide a voice of reason during these difficult times by working with our clients to ensure that all decisions are focused upon the best interests of their children.

Find out more about the legal details involved in Child Custody.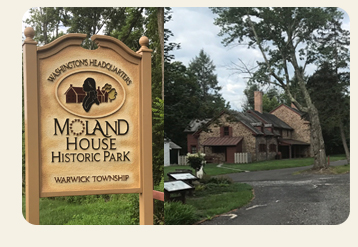 Around Town

Moland House

As part of a Bucks County law firm, we live and work in a beautiful area in the Greater Philadelphia region. One of the jewels of Bucks County, where our office is located, is Moland House. Moland House was General George Washington's headquarters during the Neshaminy Encampment period of the Revolutionary War. Between July 31 and August 23, the Warwick Historical Society hosts reenactment events that feature the Pennsylvania 5th and artisans demonstrating practices of Colonial times. The Moland House Park and the self-guided nature tour is open to the public during daylight hours all year round.
Copyright © 2017 Williams Family Law, P.C.

Williams Family Law, P.C. is a premier family law firm based in Bucks County, Pa. The firm provides individuals with matrimonial and family law legal counsel and representation in alimony, child support, child custody, divorce, domestic partnership and cohabitation, grandparents' custody rights, equitable distribution, marital settlement agreements, prenuptial and postnuptial agreements, separation agreements, spousal support, matrimonial taxation and related matters. The family law attorneys also provide guidance and representation in alternative dispute resolution forums, handling mediation, arbitration and custody dispute resolution. The practice at Williams Family Law centers on four core principles: experienced guidance, compassionate advice, powerful advocacy and knowledge of the local courts and counsel. The firm prides itself on leadership within the profession and a strong record of success.

In some states, this correspondence may be considered attorney advertising. Transmission of this document is not intended to create, and receipt does not establish, an attorney-client relationship. This newsletter is intended for informational purposes only and should not be construed as legal advice on any subject matter. The contents of the email do not necessarily represent the opinions of Williams Family Law, P.C. or its clients. If you require legal advice, you should retain competent legal counsel to advise you. If you would like to retain Williams Family Law, P.C., please contact one of our lawyers, who will be pleased to discuss how our firm can assist you. An attorney-client relationship will arise between you and our firm only if we specifically agree to act for you. Unless and until we specifically agree to act for you on a matter, you should not provide us with any confidential information or material.